While it is a common notion that brushing your teeth every morning and bedtime keeps your teeth and gums healthy and clean, the truth is not as simple as that. It requires one to use proper brushing techniques and standard toothbrushes to keep cavities and bad breath at bay.
The world today is overloaded with oral products of flashy colors and insane ingredients that claim of complete oral health. Here, we tell you why you should chuck out such substandard products and choose quip electric toothbrush. Read our detailed quip toothbrush review to know all the pros and cons of this trending electric toothbrush.
Quip Toothbrush Review – Why Quip?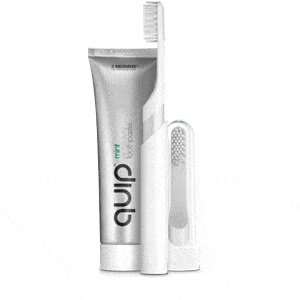 There are a number of electric toothbrushes flooded in the market today in shades of all colors and with various rotation degrees. Here, we list you the top five genuine reasons on what makes Quips electric toothbrushes stand out in the crowd.
Optimum Vibrations with Soft Brushing
We all know that a hasty dental brushing is not good enough to remove all the germs from your teeth and gums. But do you know that a harsher and longer brushing does even worse damage to your teeth?
Longer and harder brushing erodes the enamel layer from the teeth causing poor tooth strength and sensitivity. The Quip toothbrush is designed with 2 minutes vibrations and 30 seconds intervals between vibrations that give you the needed and accurate dental care.
Hassle-free Single Mode Vibration
The ingenious electric toothbrushes from Quip come in just one single mode that is pretty straightforward to use and is equally effective for teeth of all types and shapes. So, no more confusions on deciding which mode to choose!  Just, turn on the toothbrush and start brushing.
Sleek Design
The Quip electric toothbrushes look sleek and are easy to carry on travel. They don't have a bulky charger as the other electric toothbrushes that you find in the markets. They look classy and promise unparalleled dental care. Color and rotation degree gimmicks are not what Quips do!
Affordable Brush Heads and Easy Home Delivery
Dental practitioners advise changing the brush heads once in every 90 days. After three months, the bristles get worn out and become incapable of cleaning.
The brush heads from Quip are extremely affordable. You can also choose the Quip refill plan so that the brush heads get automatically delivered to you at your doorstep every three months.
Hence, with Quip toothbrush, you no longer need to remember the dates you want to replace your brush heads. They do it for you and the best part is that the Quip electric toothbrush head replacement plan can be availed for as less as $5 with free shipping.
Ideal For Travel
Quip toothbrushes are thin, sleek and lightweight. These make it ideal to be carried during travel. They also come with a special travel case to carry them safely. The Quip toothbrushes also have a travel-ready holder.
You can effortlessly attach the toothbrush to any surface of the hotel room with the dedicated suction holder and detach them easily too.
Quip Electric Toothbrush Starter Sets

If you are a first timer using electric toothbrush from Quip, you can buy the starter sets that includes a plastic or metal toothbrush and a toothbrush holder that can be suction mounted to the wall.
You can also choose to optionally buy the Quip toothpaste that is effective in treating cavities and has a nice mint flavor.
The starter kit with a plastic toothbrush is priced at $25 and the one with a metal toothbrush is priced at $40. After purchasing the starter kit, you can just replace the toothbrush heads.
Quip Toothbrush For Travel
While Quip toothbrush is extremely easy to carry on a journey, we suggest you follow a few tips to ensure the longevity of the toothbrush.
Let the toothbrush head dry before you start packing it.
Once it is completely dry, place it in safely in the airtight travel case.
After you arrive at the hotel, ensure to remove the toothbrush from the case and let it be in an airy place. This ensures that there is no bacterial growth in the toothbrush.
While in the hotel room, place the suction toothbrush holder on an even and smooth surface to prevent any fall.
Credits From Quip
Quip also encourages its existing customers to refer and earn. With every purchase of Quip electric brush, you get a referral code that you can share with your friends and family. For every new purchase made with your referral code, you enjoy special credits that can be redeemed for toothbrush heads replacement. You can also similarly connect with dentists on Quip using the referral code and earn credits.
Conclusion
If you have been googling around to find the best electric toothbrush, we hope this detailed review of Quip toothbrush would have come handy! With a huge number of satisfied customers across the globe, the Quip Toothbrush will undeniably be your best partner aiding your oral hygiene routine. Shop now and experience the difference!