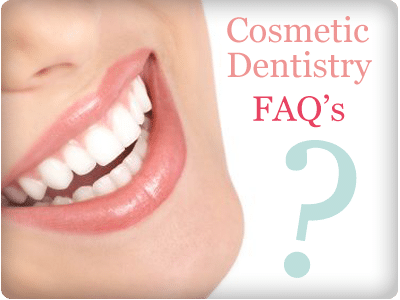 Cosmetic Dentistry FAQ
Thinking about having a cosmetic dentistry procedure done? Here are some frequently asked questions and answers for you.
Q: Is cosmetic dentistry covered by my insurance?
A: Some elements of cosmetic dentistry may be fully covered by your insurance. Others may be covered by 50%.
Some cosmetic procedures are not covered at all. Your dentist is typically happy to review your benefits plan to help you determine what is covered so that you can stay on track with your annual limits.
Your dentist may also be willing to submit a proposal/treatment plan to your insurance ahead of a procedure to determine what your insurance will cover.
This can help you plan things financially for anything not covered by dental insurance.
Q: What sorts of payment options are available for cosmetic dental procedures?
A: Different dental practices will have financing and payment options for you. You will want to check with individual dentists.
Some bill your insurance and if everything is not covered they will invoice you for the balance.
Others prefer you pay up front and submit paperwork to your insurance company for reimbursement.
Some dental practices offer payment plans and financing options as well.
The good news is that financing does not usually have to be a barrier to improving your smile or dealing with a dental emergency.
Q: What's the difference between a general dentist and a cosmetic dentist?
A: General dentists can become cosmetic dentists with additional training. Cosmetic dentists can choose to work in specific areas or be generalists as well. Some professionals prefer to stick to basic dental care, such as examinations, fillings, and minor procedures.
Other dentists continually expand their knowledge to cover many aspects of dentistry.
Cosmetic dentistry procedures can include teeth whitening, tooth bonding, veneers, dental implants, dentures, braces, bridges, removing old amalgam fillings and replacing with tooth-colored fillings, and more.
Due to demand, more general dentists are expanding their repertoire to cover cosmetic areas as well. When looking for a cosmetic dentist, check their website for a list of services they provide.
If you are looking for a 'one-stop shop' you can find that some offer general dentistry as well as cosmetic dentistry procedures.
Q: How long will it take me to recover from a procedure?
A: Recovery time from a cosmetic dentistry procedure is going to vary, depending on what you are having done.
Some procedures are so minimally invasive that there will be zero recovery time whatsoever.
Other procedures may leave you sore and tender for a few days.
At times, if sedation is required, you will need someone to take you home and stay with you for up to a day afterward.
Your dentist will provide you with detailed information about what to expect based on the procedure you are having done.
Do you have questions about cosmetic dentistry that are not covered here?
Feel free to check our find a local dentist section where you will find options in your geographical area.
Most local cosmetic dentists are happy to answer your questions and many will offer you a free consultation to help you determine whether or not a specific cosmetic dentistry procedure is right for you.