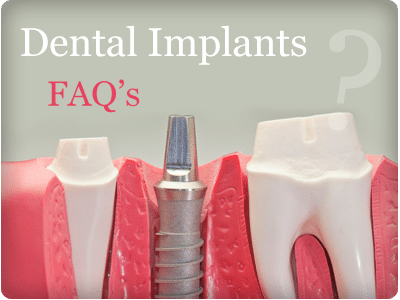 Are you thinking about having dental implants done? Here are some frequently asked questions and answers to help you decide whether or not you'd like to explore this treatment.
Q: Am I a good candidate for dental implants?
A: Most people with missing teeth are good candidates for dental implants. Your dentist can review this based on your specific situation.
It's important to be aware of the fact that good oral care is a necessity after your implant is put in.
People with missing or badly decayed teeth who want an alternative to a bridge or removable dentures may wish to investigate whether or not this is a good option for them.
Many find it to be a great alternative to removable false teeth. They look natural and can help you not only feel more confident about your smile but they can help you eat foods you've been avoiding for years.
Q: How long will it take to recover?
A: The process can take a few to six months from start to completion but most people are able to return to normal activities within a few days of the procedure being done.
There is a healing period and there will be discomfort but your dentist will work with you on pain management.
Q: What do dental implants cost?
A: Dental implant costs vary depending on where you live and the training of your dentist amongst other factors. Before deciding on dental implants, it's advisable to obtain a quote.
The price will vary, depending on how many teeth you want to have done.
Costs vary from $1,000 and up per tooth. Most cosmetic dentists who do dental implants offer payment options including financing to split payments over several years.
Q: What if the dental implant fails?
A: There are times when people get an infection and their dental implant fails. Good oral care can help lower the chances of this happening.
Smokers are strongly urged to quit smoking before the procedure as smoking will dramatically increase the risk of failure.
Q: How do I find a good dental implant dentist?
A: It's wise to look at local dentists in your area who offer this service.
Read their websites, check their reputation out online, look for reviews, review before and after implant photos, and consider making an appointment for a consultation so you can meet with a dentist and discuss your questions and concerns in person.
It may be worthwhile to travel outside your local city, too, to find the best dentist for the job.
Q: What are mini dental implants and what makes them different from traditional implants?
A: In essence, mini dental implants cost less but are not used alone; they are used to secure dentures in place better than denture adhesive.
These are also an option you may wish to explore with your dentist.
Do you have questions about dental implants that are not covered here?
Feel free to check our find a local dentist section where you will find cosmetic dentists in your area that provide dental implants and alternatives.
Most are more than happy to meet with you to discuss whether or not dental implants or alternatives will help you get the smile you've been wanting.