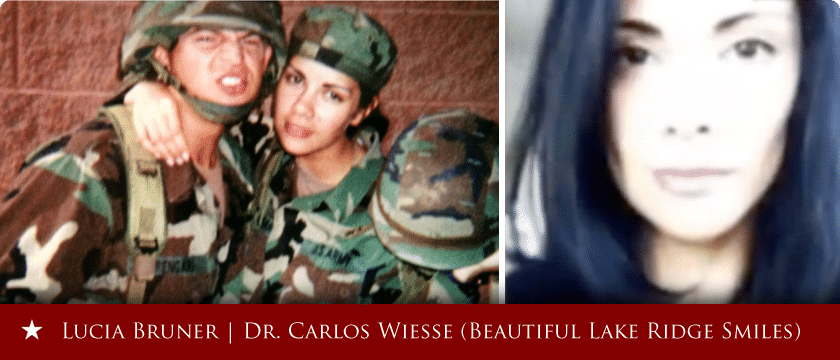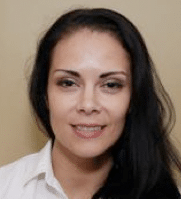 Patient: Lucia Bruner
ACE Dentist providing treatment: Dr. Carlos Wiesse
Sponsoring Lab: Dental Masters
Treatment: Partial, bridge and several anterior restorations, recontouring and TMD treatment
Lucia B. is 32 years old and has experienced many things well beyond her years. Her parents were both in the military and both died when she was in her teens.
She and her twin brother left to fend for themselves. She got married at 15 and had her daughter just before her 16th birthday.
Her husband was older and quit his job, so Lucia had to work two jobs, one full-time, one part-time for most of their marriage. She was finally able to secure an apartment in a building subsidized for young single mothers.
Because she never graduated high school, she was stuck in dead-end retail jobs. She was finally tired of being a bad example to her daughter and wanted to give her a better life.
At age 20, she decided to get her GED, and then joined the Army as an Interrogator. She had just completed Counter Intelligence training when 9/11 happened, and was sent in.
While she was away, she lost 3 people very close to her – a good friend was murdered, her Grandfather (a decorated war hero and State Trooper) and uncle both died of different cancers.
When she was at rock bottom, one of her drill Sergeants from Counter Intel helped her through. They lost touch but about 4 years later she called him for a reference, and they've been together ever since. They married in 2007 and she has 3 step-children that she is very close to.
She is currently one class away from her Associate's Degree in Intelligence Operations and one in Political Science.
She finally feels that she is in a position now where she has accomplished so much and she can do so much with her life, but she can't because she's so embarrassed by her teeth.
In her teens, she had a bout with bulimia, which started most of the problems she still faces today with her teeth. She cries all of the time about her teeth but she hasn't been able to afford the treatment she needs.
Dr. Carlos Wiesse and his team in Grand Prairie, TX took Lucia's case. Because she lives in Arizona and would be traveling to their office, it took a lot of coordination to arrange this case.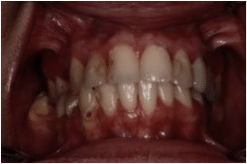 Prior to her first appointment last Friday, Dr. Wiesse only had her pano to go off of. There was a lot to accomplish in one day, starting with x-rays and a comprehensive exam.
They whitened her anterior teeth with Zoom and had to extract # 5. He then placed a temp bridge and took impressions for a lower partial.
Her next appointment will be arranged in conjunction with Veterans Day, because several media outlets have been interested in this story, and Montel is trying to arrange his schedule to be there as well.
At that appointment, her partial will be delivered and she will have several anterior fillings done as well as some re-contouring. Dr. Wiesse is also working with her to treat her TMD.
Although her treatment has only just begun, she is already ecstatic. "I can't believe something like this would happen to someone like me", she said.
Dr. Wiesse also finds it hard to put into words his feelings, but says "Being able to give someone so deserving who has overcome so much the smile they deserve is the best feeling. Knowing I've changed this amazing young woman's life by doing what I do every day is so rewarding".
Dr. Carlos Wiesse